TRACK LIST:
NOTES
Bootleg 7", ltd. to 100 copies, handnumbered. Recorded live September 14th, 1990 in Bielefeld, Germany @ PC69. A-side features "Inhuman", B-side features excerpt from noise improv during the show.

RELEASE INFO

VINYL
RELEASE DATE

ORIGIN

LABEL

CATALOG #

?

?

?

?

NOTES: 7" bootleg.
INFO NEEDED FOR THIS RELEASE
Need details on contents.
Please write me w/ anything that's missing!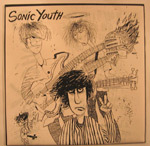 front