TRACK LIST:
NOTES
Thanks to Sven I can provide information on these strange Russian flexis:

The flexis are 6" in size and there are MANY not featured on the site. Apparently they all sound quite poor and often the songs are incomplete. I have to say, some of the song choices are bizarre if true! The following is a complete list:
Drunken Butterfly (BUDKON 4960)
Panty Lies (BUDKON 4088)
Chapel Hill (BUDKON 3397)
Skip Tracer (BUDKON 3248)
Saucer-Like (BUDKON 4089)
Purr (BUDKON 4575)
Nick Fit/On The Strip (BUDKON 4870)
Electricity (BUDKON 2357)
Cross the Breeze (BUDKON 2337)
My Friend Goo (BUDKON 2518)
Inhuman (BUDKON 2519)
Theresa's Sound World
I Love Her All The Time
My New House
The Sprawl
Jam Right 2 (aka "I Am Right" I assume)
Dik ("Master Dik" I assume)
Tom Violence
Silver Wax Lips
Where The Red Fern Grows
Bull in the Heather
Pacific Coast Highway
Fauxhemians
Ghost Bitch
Mildred Pierce
Tunic (2 versions, possibly 2 parts of the song - 4" vinyl)
Queen Anne Chair (6" vinyl, 2 different picture sleeves)

RELEASE INFO

VINYL
RELEASE DATE

ORIGIN

LABEL

CATALOG #

200?

Russia

BUDKON

see above

NOTES: russian clear flexi 6"
INFO NEEDED FOR THIS RELEASE
These are really cool, who has more info on them?
Please write me w/ anything that's missing!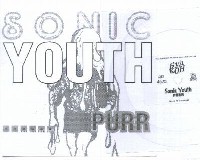 flexi