TRACK LIST:
1.
Personality Crisis
3:46
--
2.
Dirty Boots (8-track demo short version)
2:50
NOTES
7" offered to readers of Sassy magazine. Limited to 2000 copies. A-side features SY's version of the New York Dolls' "Personality Crisis", B-side features short 8-track demo of "Dirty Boots".
Always thought this was a flexi but I'm told it's actually a solid 7".

RELEASE INFO

VINYL
RELEASE DATE

ORIGIN

LABEL

CATALOG #

11/90

US

DGC

7-19664-DJ

NOTES: 7", ltd 2000. released 1991?
INFO NEEDED FOR THIS RELEASE
Please write me w/ anything that's missing!


side 1


side 2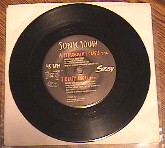 7"


close-up of label

magazine featuring giveaway