TRACK LIST:
1.
Death Valley '69 (LP Version)
--
2.
I Dream I Dreamed
3.
In Human
4.
Brother James
5.
Satan Is Boring
NOTES
"Death Valley 69" 12" EP featuring one song from each of their prior releases and an outtake from Bad Moon Rising. DV69 is from Bad Moon, I Dreamed I Dream is from Sonic Youth, Inhuman is from Confusion Is Sex, Brother James is from Kill Yr Idols, and Satan is Boring is from the Bad Moon sessions. Satan Is Boring was later a bonus track on the Bad Moon Rising CD.
Original insert came w/ interview from Clutch fanzine #7 and a live photograph from the mojave desert by Alan Peak.
Etchings (Homestead):
Side 1: "Raygun or Manson, it's the same thing"
Side 2: "The S. Factor was ok on the day"
Actual cover is more pink than the red in my scan.

RELEASE INFO

VINYL
RELEASE DATE

ORIGIN

LABEL

CATALOG #

06/85

US

Homestead

HMS021

NOTES: 12" EP

06/85

UK

Blast First

BFFP2

NOTES: 12" EP
INFO NEEDED FOR THIS RELEASE
What else was included in the original insert?
Please write me w/ anything that's missing!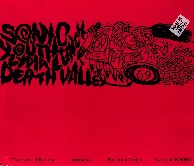 cover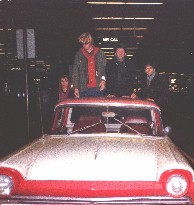 back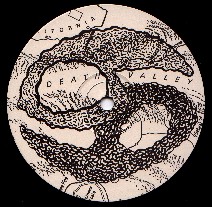 vinyl label side 1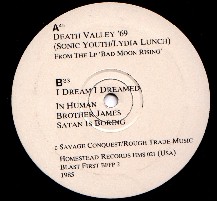 vinyl label side 2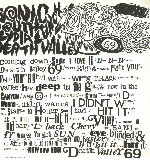 lyric sheet


insert


live photo