TRACK LIST:
1.
SONIC YOUTH - "Pay No Mind"
3:04
--
2.
BECK - "Green Light"
NOTES
This was a special split 7" designed for the International Record Store Day in April 2009. It was limited to 2500 copies and featured Sonic Youth and Beck covering each other's songs. Sonic Youth do a very strange interpretation of "Pay No Mind" from Beck's Mellow Gold LP, and Beck does an acoustic spin on "Green Light" from EVOL (reportedly Beck has recorded EVOL in its entirety for future release).
SY are credited as "The Sonik-Youth". Their track was recorded in January 2009 during the Eternal sessions.

RELEASE INFO

VINYL
RELEASE DATE

ORIGIN

LABEL

CATALOG #

04/18/09

US

Matador

OLE 865-7

NOTES: limited to 2500 copies
INFO NEEDED FOR THIS RELEASE
Please write me w/ anything that's missing!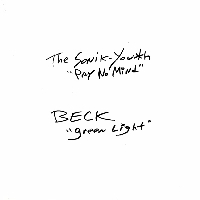 cover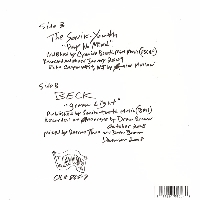 back