TRACK LIST:
| | | |
| --- | --- | --- |
| 1. | Antenna [Radio Edit] | 3:35 |
NOTES
Promotional CD single for "Antenna", the second single from "The Eternal". The instrumental portions of the songs are considerably trimmed.
Circulated with notice for their upcoming appearances on Jimmy Kimmel and Austin City Limits, both of which were cancelled due to Lee's wrist injury.

RELEASE INFO

CD
RELEASE DATE

ORIGIN

LABEL

CATALOG #

07/07/09

US

Matador

OLE 1269-2P

NOTES: 1-track promo CD featuring radio edit
INFO NEEDED FOR THIS RELEASE
Please write me w/ anything that's missing!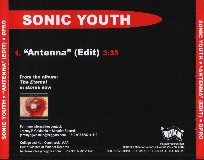 back cover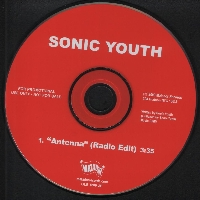 disc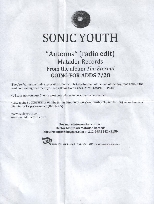 one sheet


whole package