Sonic Youth's soundtrack of the French film 'Simon Werner A Disparu' is now available – cds and lps(with download card) are available   now at our webstore and the digital download is available via Midheaven.com (song samples available here) or iTunes. The album is available in France at major retailers or via iTunes.
In Spring 2010 Sonic Youth gathered at their Echo Canyon West studio in Hoboken, New Jersey to watch the rushes of a new film, 'Simon Werner a Disparu,' by French director Fabrice Gobert. The band spent the following few weeks recording music which was then shaped to fit the various scenes of the film.  For this release it was decided to do more than present the abbreviated clips of music used in the film. Instead the band went back to the original tapes and re-organized the various pieces; sometimes montaging multiple tracks together, other times extending cues into new sonic realms.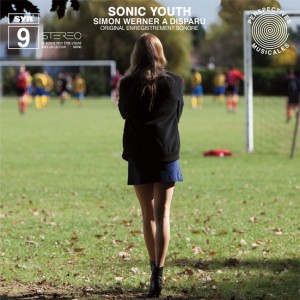 SYR 9 – SIMON WERNER A DISPARU
1- Thème de Jérémie  
2- Alice et Simon 
3- Les Anges au piano  
4- Chez Yves (Alice et Clara) 
5- Jean-Baptiste à la fenêtre 
6- Thème de Laetitia  
7- Escapades  
8- La Cabane au Zodiac 
9- Dans les bois / M. Rabier  
10- Jean-Baptiste et Laetitia 
11- Thème de Simon 
12- Au Café
13- Thème d'Alice – cd bonus track + available as download w/  vinyl.
The film 'Simon Werner a Disparu' is available in France on DVD  with a bonus preview CD featuring Sonic Youth's music from the film.
Track list as follows:
1. M. Rabier (aspect)
2. Jean-Baptiste à la fenêtre (aspect)
3. Alice et Clara (aspect)
4. Thème de Jérémie (aspect)
5. Thème de Simon
A trailer to the film 'Simon Werner a Disparu' here