Visual Artist Cameron Jamie will present his new film 'Massage The History' at the Museum of Modern Art in New York Monday, Jan 24 at 7:00pm. The film features the Sonic Youth song of the same name.  More information from MoMA below.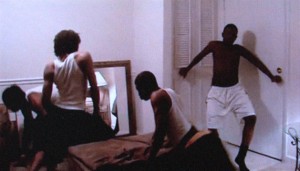 AN EVENING WITH CAMERON JAMIE
Monday, January 24, at 7:00 p.m.
Cameron Jamie (b. 1969, Los Angeles) presents the New York premiere of his most recent 35mm short film, Massage the History (2007–09). Featuring an original soundtrack by Sonic Youth, the film documents young adults from Alabama who dance themselves into trance states in the privacy of their living rooms. Also presented are three related videos: Kranky Klaus (2002–03), about an ancient Austrian folk tradition involving a sadistic mythical beast and the benevolent St. Nicholas; Spook House (2002–03), which follows Detroit suburbanites acting out primitive urges on Halloween; and BB (1998–2000), in which teenagers stage wrestling matches behind Los Angeles tract houses. An American artist living in Paris, Jamie experiments with and moves freely among moving image and music performance, sculptural installation, drawing, photography, and zine publishing. Following the screening, Jamie will take part in an onstage conversation with Kathy Halbreich, MoMA's Associate Director.